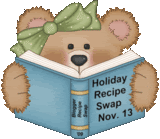 Looking for some Great Holiday Recipes??? Just visit Karrie at Stay@homemommy for her Holiday Recipe Swap!!!
Layers of red and green make this festive salad a favorite during the Christmas season.! While this Salad is absolutely beautiful, it does take a bit of time!!
Holiday Ribbon Jell-O Salad
12-15 Servings
Prep: 40 min. + chilling
Ingredients
2 packages (3 ounces each) lime gelatin
5 cups boiling water, divided
4 cups cold water, divided
1 package (3 ounces) lemon gelatin
1/2 cup miniature marshmallows
1 package (8 ounces) cream cheese, softened
1 cup mayonnaise
1 can (8 ounces) crushed pineapple, undrained
2 packages (3 ounces each) cherry gelatin
Directions
In a bowl, dissolve lime gelatin in 2 cups boiling water. Add 2 cups cold water; stir. Pour into a 13-in. x 9-in. dish; refrigerate until set, about 1 hour.
In a bowl, dissolve lemon gelatin in 1 cup boiling water. Stir in marshmallows until melted. Cool for 20 minutes. In a small bowl, beat cream cheese and mayonnaise until smooth. Gradually beat in lemon gelatin. Stir in pineapple. Carefully spoon over the lime layer. Chill until set.
Dissolve cherry gelatin in 2 cups boiling water. Add the remaining cold water; stir. Spoon over the lemon layer. Refrigerate overnight. Cut into squares. Yield: 12-15 servings.
Nutrition Facts: 1 serving (1 each) equals 236 calories, 17 g fat (5 g saturated fat), 22 mg cholesterol, 164 mg sodium, 19 g carbohydrate, trace fiber, 3 g protein.
Holiday Ribbon Gelatin published in Taste of Home December/January 2003, p37
Carefully Add Layers
When making a layered gelatin salad, it's helpful to gently spoon (rather than pour) each layer onto the previous layer of gelatin so it doesn't break through the other layers. —Janet Biersach, Mauston, Wisconsin
This recipe is courtesy of Holiday Ribbon Gelatin Recipe | Taste of Home Recipes
This picture if of my son actually digging into this salad before dinner (LOL) So if you think your kids won't like it, think again!!